The All American Post
In the spirit of the inauguration tomorrow I thought I would post my favorite all American recipes, and what is more American that meat and potatoes? Enjoy!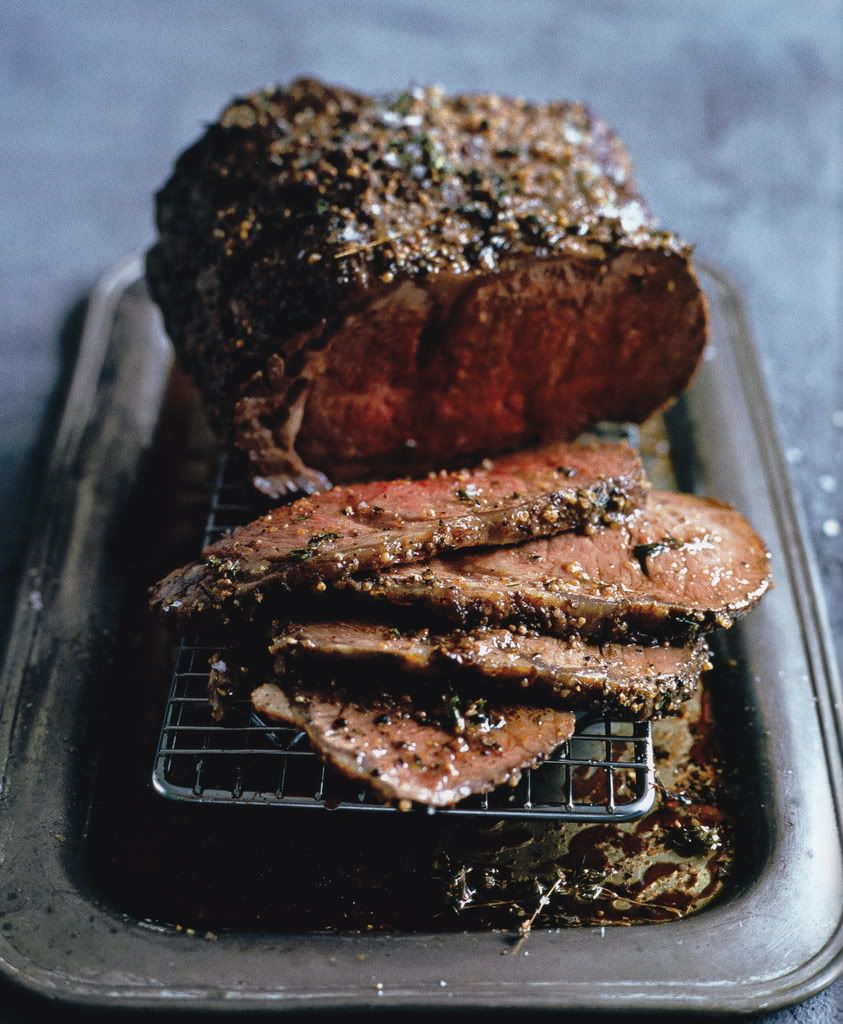 Mustard Roast Beef
Recipe courtesy Donna Hay
My changes & additions in italics.
2 teaspoons mustard seeds
1 teaspoon sea salt flakes
1 teaspoon cracked black pepper
1 tablespoon thyme leaves
1/4 C olive oil, plus one tablespoon extra
4 lb boneless beef rib eye
or just a really beautiful roast.
1/4-1/2 C Dijon mustard depending on taste
1 stick room temperature butter
kitchen string
Remember to take the beef out of the fridge at least 10 minutes before you sear it or put it in the oven, this will ensure even cooking.
Preheat oven to 250 degrees. Place the mustard seeds, salt, pepper and thyme in a mortar and pestle and pound until lightly crushed. Add the oil and pound until combined.
In a separate bowl combine butter and Dijon mustard until completely integrated. Combine spice mixture and mustard mixture, set aside.
Brush the beef with the extra oil. Heat a large non-stick frying pan over high and cook the beef for 1-2 minutes each side or until brown. remove from the pan. Secure with kitchen string and rub the mustard mixture over the beef. Place on a rack in a baking dish and roast for 1 1/2 hours for medium rare
(I use a meat thermometer, and remember that the meat continues to cook after you remove it from the oven.)
Serves 4-6 After roasting, cover the meat with foil and rest in a warm place for at least 10 minutes to allow the meat to relax.
I always make a sauce from the pan drippings. Simply put the roasting pan on to your stove top and on medium high heat, add either beef broth or red wine and reduce down a bit and you will have a beautiful sauce to accompany your beef.

Recipe & photo v. Donna Hay Magazine issue 39. Photographer Chris Court
*Donna Hay's recipe measurements have been converted from the metric system.
Double Potato and Halloumi Bake
Recipe courtesy
Nigella Lawson
My changes & additions in italics.
1 large sweet potato
1 large red firm potato
1 red onion
1 yellow pepper
1 red pepper
1/2 head garlic, cloves peeled
4 tablespoons olive oil
Freshly ground black pepper
4 1/2 ounces halloumi cheese, sliced as thinly as you can
I ALWAYS add yams & vidalia or yellow onions to this, I often leave out the cheese, red & yellow pepper to give it a different feel. In fact I prefer this dish with out the peppers & cheese, but that's just me. I always double this recipe.
1-2 yams
1-2 yellow or vidalia onion
Preheat the oven to 400 degrees F.
Cut the sweet potato into rough 1 1/2-inch cubes and the red potato slightly smaller (1-inch cubes) as the sweet potato will cook more quickly. Halve the red onion, then cut each half into 4 to 6 segments, discarding any tough outer skin. Seed the peppers and cut into 1-inch squares, and separate the cloves of garlic. Put everything into a 2-quart casserole dish, or whatever you want to use (it should be big, otherwise use 2 dishes) and, using your hands, give the vegetables a good coating of olive oil. Season with black pepper, but no salt as the cheese will make it salty (and anyway, the salt will make water leach out).
Bake for 45 minutes, by which time the vegetables should be cooked through and here and there tinged with brown. You'll need to turn the oven up to maximum heat or light the broiler for the endgame: so place the thinly sliced cheese on top of the bake, and put it back in the very hot oven or under the broiler until the cheese has melted and turned slightly brown on top, about 5 to 10 minutes. Serve straight out of the casserole dish.
Recipe & photo v. Nigella Bites. Photographer Francesca Yorke